Marija Ilic, pianist

Biography


Pianist Marija Ilic is an active performer of the traditional repertoire and new music in New York City and has been praised as a "clear and decisive musician," "compelling," and "poetic", and noted for her "quiet intensity" by The New York Times. Her performances include recitals at the Weill Recital Hall at Carnegie Hall, the Clark Studio Theater at Lincoln Center, the 92nd Street Y, and Merkin Hall, as well as the Music Festival of the Hamptons, Aldeburgh Festival in England, Musica Viva and Kolarac Hall in Belgrade, Norfolk Contemporary Music Festival, the Hoch Chamber Music Series at Concordia University, and Trinity Church. She has been collaborating in recitals with violist Lawrence Dutton of the Emerson String Quartet, performing numerous concerts at such venues as the Smithsonian Institute in Washington, D.C., as well as in Woodstock, Stamford, and Bronxville.

Ms. Ilic has worked with composers Martin Bresnick, William Bolcom, George Crumb, Oliver Knussen, Joan Tower, Vykintas Baltakas, Meredith Monk, and John Patitucci, among others. She is the founding principal pianist of Christopher Caines Dance Company, with which she has appeared regularly since 2000, and is a member of Dan Joseph Ensemble. Ms. Ilic has an ongoing collaboration in a piano duo with Milica Jelaca Jovanovic, playing concerts in Europe and the United States. She also regularly performs as a harpsichordist and was a featured soloist in J. S. Bach's Brandenburg 5 at Music at Concordia series.

A native of Belgrade, Serbia, Ms. Ilic holds her undergraduate degree from the Belgrade Music Academy, graduate degree from the Mannes College of Music, and a doctorate in piano performance from Rutgers University, with J. S. Bach's The Art of Fugue as her doctoral topic. Her piano teachers include Susan Starr, Pavlina Dokovska, Nina Svetlanova, Stephanie Brown, and harpsichord master Kenneth Cooper. She can be heard on New World Records, Mutable Music, Innova, and Silent Treatment Music labels, and is currently working on her solo piano CD, featuring music by J. S. Bach. Ms. Ilic is on the piano faculty at Vassar College and Concordia College, where she is the artistic director of Concerts at OSilas series.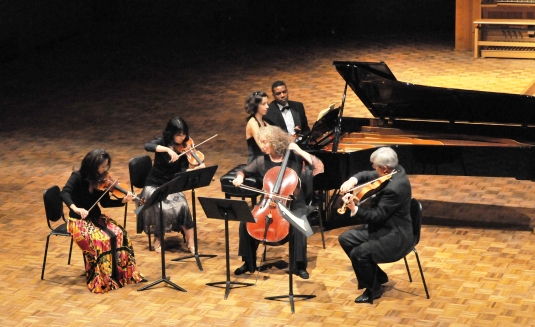 Home
Biography
Recordings
Performances
Links
Contact